Manufacturer SPA Nail Salon Equipment Beauty Furniture
Heavy-duty black leather reclining hydraulic men recline hairdressing barber chairs
Heavy-duty black leather reclining hydraulic men recline hairdressing barber chairs
Model ID: HT-BER-018
Heavy-duty black leather reclining hydraulic men recline hairdressing barber chairs
Luxury Hydraulic Recline Barber Chair
A spacious, Heavy-duty and durable reclining barber chair.
Professional Hair Salon Chair
Professional Hair Salon Furnishings
Luxury Barber Chair
1. Professional and Durable classic heavy duty and durable barber chair design.
2. Good Quality, beautiful appearance.
3. Adjustable height mechanism handles enables the chair to reclines up to 45 degrees, can be turned around to 360 degrees.
4. Powerful Hydraulic System Heavy duty round hydraulic pump and base.
Luxury and durable barber chair, with reasonable price.
Fully reclining backrest Adjustable headrest Large footrest.
Chair color can be set based on customer requirements with optional leather.
We also Produce a Wide Range of Other Salon Equipments, Barber Chair, Shampoo Chair/Bed, Styling Mirror, Facial Bed, Massage Table, Hair cutting Stool. Let us Know the Product Lines of Your Interest. So That we Can Offer You Our Best Prices.
OEM and ODM Service Provided.
heavy-duty durable black reclining hydraulic man hairdressing barber chairs
1: High quality PU material with several colors available covers the entire chair
2: Chrome plated cast iron armrest supports and chrome plate cast iron leg supports decorate both sides of the chair
3: Headrest is removable with dual rod snap-in place detents and has multiple detents for small incremental movement
4: Reclining mechanism handles are located on both sides of the chair and the back reclines up to 45 degrees with the assistance of a gas piston assembly
5: Two support feet extend from the bottom of the tread-plate, which rest securely on the floor when the chair is in its lowest position
6: Offers the largest hydraulic pump and base-plate diameter in the barber chair industry
7: Will deliver years of performance
8: Some Assembly Required
9: Reclining levers on both sides with adjustable solid rod mechanism
10: Heavy steel metal frame construction with full welds on chair base
11: Gas piston shock mechanism assists in reclining, has auto incline and is infinitely adjustable up to 90 degrees when reclining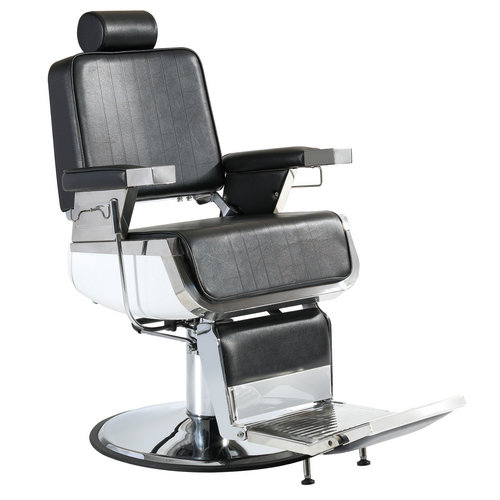 Request a quote