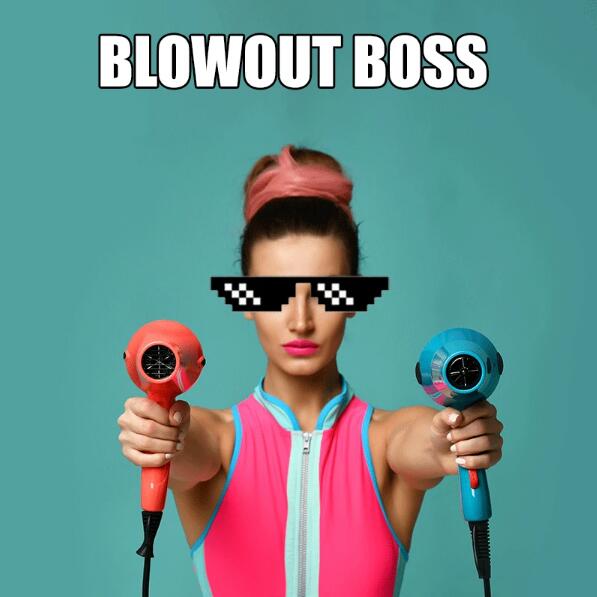 Big hair, don't care? False. Research shows that for 68% of women, a bad hair day leads to a decrease in confidence and hinders work performance.
Unfortunately, maintaining sleek and shiny hair all the time is difficult. Rainy days, humidity, and tossing and turning all night can prevent us from controlling our hair. But that is where a blowout bar comes in handy.
Blowout bars make it convenient for women to quickly spruce up their hairdo. Many salon owners are transforming unused square footage in their salons into revenue-generating blowout bars.
If you are considering starting or adding a blowout bar to your salon, keep reading. We have highlighted the top blowout bar benefits and how to ensure a successful operation. Let's dive in.
blowout bar
Blowout Bar Benefits
Blowout bars, also referred to as dry bars, are popping up all over the country. Dry bars can be stand-alone businesses, or they can be added into an existing salon.
Dry bars provide hair washing, styling, and drying. A specialist will wash and dry a client's hair. Then they will style it based on the client's selection from a preset menu. Most blowout bars do not offer cuts, coloring services, or chemical treatments.
Many blowout bars are cranking their services up a notch by enhancing the blowout experience.
They create a comfortable atmosphere with cozy furniture and large televisions playing the best chick flicks on repeat. Some blowout bars emphasize the bar part by offering clients cocktails while they receive their style treatments.
In 2017, blowout dry bars reached $2 billion in service sales. Market researchers are projecting a continued 25% year-over-year growth for blowout bars for the foreseeable future.
Blowout services create a unique opportunity for salons and stylists, making them a profitable investment. They offer clients a specialized service that can give their business a competitive advantage.
blowout bar
Provide Fast Hair Services
Clients prefer blowout services because they are fast and easy. Many women visit dry bars to get glammed up without spending hours in a salon chair. Blowout services are so fast that many women pop in during their lunch breaks.
The blowout services are also ideal for women who want to maintain a straight hairdo without indulging in straightening services. Blowouts give women the straight-haired look they desire without causing as much damage as permanent straightening treatments.
Attract Large Groups
Blowout bars attract large groups of women, so much that many salons offer special group packages.
Hitting the dry bar before a night on the town is a fun and festive way to kick off an epic girls' night. Groups of women may schedule time at a blowout bar before a wedding, bachelorette party, or any other big event to ensure everyone achieves picture-perfect hairstyles.
And for the salon, large groups at the blowout bar equals great revenue.
Providing blowout services at your salon ensures your business gets plenty of business, especially around wedding season, prom, and the holidays. The services set your business apart from other salons in the area and can be the reason why a large group chooses you over a competitor.
blowout bar
Receive More Repeat Customers
The average woman visits a salon 3.81 times a year, which equals once every 13.5 weeks. Adding a blowout bar to your business not only increases new business but also allows you to see your regular customers more than three times a year.
While a haircut should last a few months, blowouts do not. The styling effects disappear once the customer showers or gets their hair wet.
If your stylists do a good job, your customers are going to come back frequently. Whether they want to feel more confident during a presentation or they are heading out for date night, blowout bars keep customers coming back more frequently than cutting and chemical treatment services.
Partnering With a Blowout Bar Franchise
Blowout bars are a franchise. The franchisor has a business model offering successful services (dry bars) and allows franchisees (salon owners) to operate under the franchisor's name and guidance.
Becoming a blowout bar franchisee means having a higher chance of success than starting a sole proprietorship.
It also means you have the franchisor to lean on for training, ongoing support, and assistance. You also get access to the franchise's name, which may already have a strong following, making it easier for you to gain new business.
Research Different Franchisors
There are many different dry bar franchises to choose from. Some of the top names in the industry include:
Primp and Blow
Blo Blow Dry Bar
Cherry Blow Dry Bar
It's up to you to perform research on each franchise to determine which one is best for you. Compare startup costs, fees, and the amount of support the franchisor provides before filling out an application.
Calculate Your Costs
Once you have a franchisor in mind, it's time to talk numbers.
Be prepared to invest both time and money into getting your salon blowout bar up and running. Create a budget before setting your plan in motion to ensure you can cover all of the costs associated with your new business.
The expenses vary depending on which franchise you choose to partner with. However, most franchises include an initial franchise fee, grand opening advertising, and royalty expenses.
In addition to these core three costs, franchises may also charge brand maintenance fees, renewal fees, and other expenses.
A prospective dry bar owner must calculate franchise fees and expected business expenses (like insurance, staff salaries, etc.) into their budget to ensure they have enough cash flow to stay afloat.
Initial Franchise Fee
The initial franchise fee must be paid in a lump sum upon signing the Franchise Agreement. In most cases, the franchise fee is not refundable.
What does the initial franchise fee cover? Typically it includes expenses incurred by the franchisor, such as initial training fees, sales and marketing costs, and legal fees.
Grand Opening Advertising Costs
Next, your franchisor will want you to host a grand opening.
Some franchisors demand businesses spend a certain amount of money on their opening. Blo Blow Dry Bar, for example, requires franchisees to invest $12,500 and $15,000 in grand opening advertising.
Recurring Royalty Fees
The royalty fee is a recurring cost that never goes away as long as you are a part of the franchise. It is a monthly fee the franchisee pays to operate under the franchisor's name.
Royalty fees are calculated based on your revenue. They can range from 4% to 12% of your income. Blo Blow Dry Bar charges franchisees a 6% royalty fee, due on the 20th of every month.
blowout bar
Tips for How to Open a Blowout Bar
Once the budget is made and you are officially a licensed franchise, it is time to design a blowout bar that guarantees success.
Your franchisor will help you with general advertising, setup, and staff training. But it's up to you to create a blowout bar that is unique, festive, and keeps customers coming back for more.
Make comfort, style, and fun a top priority. You want to create an atmosphere where women feel pampered. Invest in comfortable seating, top-quality televisions, and other amenities that will set you apart from other blowout bars in the area.
Identify your target market and cater your services around them. Your franchisor will provide you with basic sales and marketing materials, but it will be up to you to ensure your advertising reaches the right demographics.
For example, if your target market is on Instagram, create and manage an engaging Instagram page for your dry bar. Run giveaways to expand visibility and showcase before-and-after photos to demonstrate what your stylists can do. Partner with local influencers to boost your brand's credibility.
Finally, keep affordability in mind. A significant advantage blowout bars provide is their fast and cost-friendly services. Customers want a quick style that doesn't break their bank, so make sure your prices reflect that.
If you are struggling, consider visiting your competitors. Find other blowout bars in the area and experience what they have to offer. Take note of what seems to work and what you would do differently. A little hands-on market research goes a long way in creating a successful enterprise.
blowout bar
Make Booking Blowouts Easy for Your Customers
A blowout bar allows women to transform their look in a matter of minutes.
Adding a blowout dry bar to your salon is an excellent investment. Not only are they convenient for customers, but they also allow salon owners to turn open space into a profitable service.
To make your salon dry bar more convenient, invest in top-quality salon software. Our packages make it easy for your customers to schedule appointments, purchase gift cards, and leave five-star reviews.
Learn more about our salon software and how it can help your dry bar become a success.