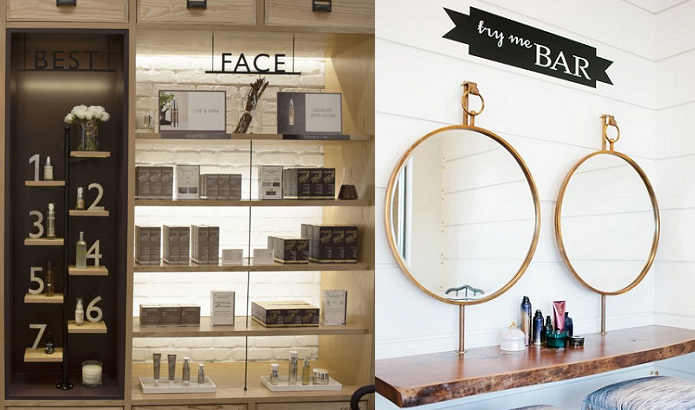 Salon merchandising is a challenging, but essential component to any successful salon, spa, or barbershop. There are several ways to increase retail sales by using merchandising tips that go beyond keeping the salon retail display clean and organized, training stylists on product sales, and thorough client consultations. The following tips can help any salon owner learn how to bring retail and merchandising to the next level to help drastically increase retail revenue.
Salon 2.0
First, take the approach of creating a shopping experience for your clientele, instead of just having stylists sell products. Clients spend an average of 5-10 minutes in the reception area. Take away the wait and turn it into your retail store by encouraging client interaction with products. Approximately 2/3 of consumers buy products at the point of purchase – so use eye-catching salon product displays and testers to your advantage!
Retail Playground
Studies show that interaction is key in influencing client buying decisions. When deciding on products to sell in a hair salon, partner with the brands you believe in. Additionally, have testers of your salon retail products readily available. The ability to see, touch, smell, and try out products takes away the guessing game for your clients and adds confidence to their potential purchase. Make sure your tester salon retail products are easily noticeable and accessible to draw customers to your retail display.
Make the Search Easy
When working with your salon retail shelves, consider sorting products by use, as opposed to by brand. This makes the customer experience simpler by allowing them to look at a subsection devoted to uses such as volumizing products or products specifically for curly hair. Professional signage guiding your clients to the focused salon retail shelves is key in making their retail experience easy and accessible.
Switch It Up
It's been proven that once the eye is accustomed to an arrangement, it no longer registers the image. This creates a huge, unnecessary barrier in noticeable salon product displays and your financial success. To avoid this, refresh and rearrange your salon displays monthly in new creative styles and change product locations. As a result, returning clients will continue to be intrigued by your display area!
Creative Composition
Enhance and embellish your beautiful salon retail display by incorporating your salon's retail products into artistic displays. Your stylists are creative – take advantage of that artistic ability to create original salon retail displays that create intrigue! If you need inspiration to begin, take a look at the displays in retail windows at the mall. Major retailers have mastered the merchandising process. Additionally, don't forget the power of fresh flowers and plants. They make clients feel more comfortable and relaxed, and also can be a beautiful addition to your salon retail shelves for a pop of color.
Show-and-Tell
Consumers love to know they are getting a deal – and love getting something for "free". Provide new clients with samples of your retail products. This sets your salon apart from the others, and allows the client to become familiar with your trusted product line! This strategy can also be used with returning clients who are hesitant to purchase your salon's retail products. Once they have seen for themselves the wonders the product does for them, they will be hooked!
Salon retail is much more than an add-on to services – it can potentially be a tremendous percentage of your overall revenue as an integrated component of your business. Bring your salon merchandising to the next level with some of these tips and tricks – and take advantage of the sales waiting for you! Check out our retail displays section to get started!