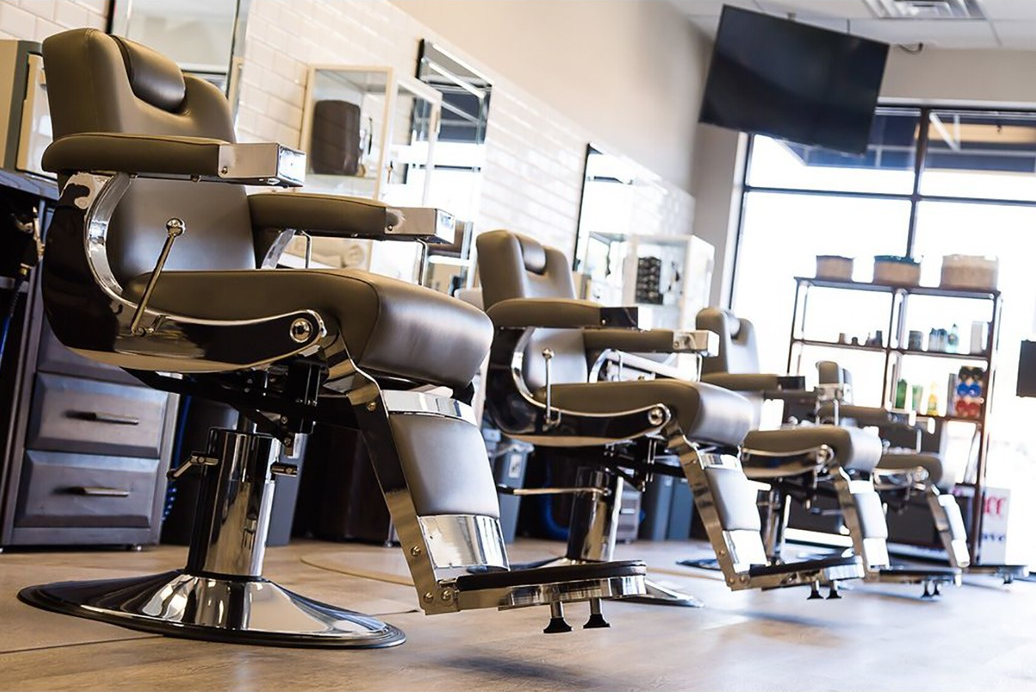 A great barber chair not only allows you to provide superior services easier and more efficiently – ultimately putting more money in your pocket – it also sets the tone, and vibe for your space. Barber chairs come in a variety of styles and prices – so how do you find the best barber chair for you? Follow Buy-Rite's Top 8 Tips for Buying the Best Barber Chair for You and find the barber chair of your dreams!
Before going into the top qualities to look for in your brand-new, deluxe barber chair, ask yourself a few questions:
– Who are your typical customers?
– How busy is your shop?
– What services do you provide?
The answers to these questions can provide you with information on what the most important qualities of a professional barber chair are for you and your barbershop, including weight restrictions, durability, chair styles, warranty, and materials.
1. CLIENT & BARBER COMFORT
Make your clients feel like the kings they are and give them the comfortable throne they deserve. Aside from providing great services, the comfort of your barber chair is one of the most important factors that will leave your client feeling like they had a great experience and leave them wanting more. Often, receiving a tight fade or a great shave is more than receiving a quick service – it is a relaxing experience that gives your clients some "me" time. Make sure to consider lumbar support, a width that can fit all sizes of clients, comfort of the headrest and footrest, and high-density foam cushions for ultimate comfort.
Additionally, don't forget about the comfort of your barbers! The day-to-day work of a barber is physically demanding. In order to allow them to do their best work and control their craft, it is extremely important to consider a hydraulic barber chair that adjusts in accordance with your barber's height, locks at all necessary positions, and the provides maximum mobility for all services provided.
2. QUALITY & DURABILITY
Construction is key when searching for the best barber chair for you. A barber chair at any price is a huge investment – so you want to make sure it will last you long-term. There is a wide range of high-quality barber chairs to choose from, no matter your budget. One way to guarantee great quality and durability is to purchase a barber chair manufactured by one of the top, American renowned brands, such as Collins, Pibbs, Belvedere, and Takara Belmont. A quality barber chair can come at an increased cost but will provide you with long-lasting results and save you money in the future.
3. MATERIAL
Buyers often overlook materials on their search for the best barber chair – but it is essential to know the quality and durability of the materials of your potential barber chair. For the metal portions of your barber chair, chrome & cast aluminum are extremely durable materials and provides a chic look, and easily hide scratches and general wear and tear. Additionally, make sure to steer clear of fabrics and leather, and opt for high-quality vinyl instead. You can easily maintain vinyl, while fabric and leather will quickly show your chair's age and use. Finally, don't forget to consider your options for barber chair bases. Several barber chair bases have options of colors, standard bases, or electric bases.
4. EASY TO CLEAN
You want your brand-new barber chair to keep looking as beautiful as the day you got it – so make sure you consider how you are going to keep it that way! You can keep high-quality vinyl looking beautiful and easily keep it up with a vinyl cleaner. Additionally, keep your chrome looking shiny and chic with a quality chrome cleaner. Finally, consider the services you provide. Do you use any products or provide any treatments that could stain your chair? Consider color options or chair covers accordingly.
5. AESTHETIC
Although there is a plethora of stylish barber chairs, it is important to consider your barber shop's general aesthetic and style when searching for the best barber chair for you. Are you going for a vintage, classic, modern, or sporty look? Are you looking for a specific color scheme? No matter the style or color options you are looking for, several manufacturers can provide you with a custom look unique to you and your barber shop – even down to the piping on your professional barber chairs. Never underestimate the power of the design and colors of your barber chairs and shop interior – these create a huge difference in your customers' overall experience.
6. FUNCTIONALITY
You may find a barber chair that looks appealing – but is it functional? In order for your barbers to do their best work, check out the reclining mechanism, height adjustments, that it swivels easily, and if the headrest and footrest are adjustable or removable. And don't forget – your clients come in all shapes and sizes. Will the seat dimensions and weight capacity allow them to sit comfortably? Make sure the barber chair's weight capacity will hold your clients – this will protect them and keep your brand-new chair from unnecessary damages.
7. BUDGET
The cost of barber chairs ranges from high to low, so it is important to set a realistic budget and stick to it on your search for the best barber chair. When working with a smaller budget, investing a little extra into your professional barber chairs will pay off. They are your most used equipment and represent the quality of your barbershop to your clientele. Buying the highest quality barber chairs you can afford and saving money elsewhere is worth it in the long-run. And don't think that high-quality means the most expensive chair you can find – there are plenty of great mid-priced options available that can check off all your boxes of fashion and function.
8. WARRANTY
Looking at a company's warranty can show a lot about the quality and durability of your barber shop's potential barber chairs. If there is no warranty- BEWARE! This could be a sign of low-quality materials and a short lifespan. The best barber chairs will be backed by at least a one-year warranty, with the hydraulic pumps often having an even longer warranty. Along with the warranty, make sure that you choose to work with a company that has a dedicated customer service team ready to assist you.
Finding the best barber chair for you requires informed decisions so you know you are making a great investment – so always make sure to contact your sales representative to get detailed information on your potential professional barber chairs. Follow our tips that combine fashion, function, and budget, and get started on your search today – and give yourself the brand-new, deluxe barber chair you deserve!