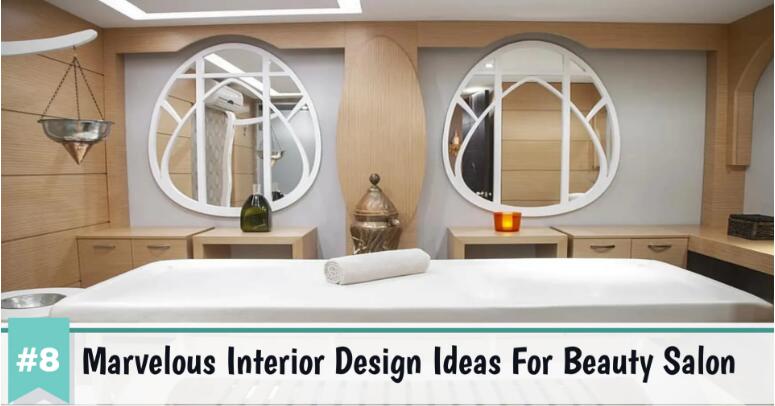 Top 8 Marvelous Interior Design Ideas For Beauty Salon
By its very definition, the hair and beauty industry is all about presentation. That means that your salon will often be judged on its looks. A lot of thought needs to be put into the design if you are renovating or starting a new salon. Today's top salons are stunning in their designs and interiors. There are a lot of factors that make the interiors of the salon look WOW. The décor, salon furniture, color combinations, lighting, and many more things are required to attract the clients and give the salon a stylish look.
There are many styles to choose from. The most popular styles are contemporary, modern, rustic, glam, or industrial.
Let us discuss some Marvelous interior design ideas for beauty salon –
1. Best Paint Color
Colors play an important role in interiors. The salon needs to be a dry, comfortable place for customers to relax. Then the atmosphere needs to adjust to make them feel secure in the form of clientele.
How to pick colors
In narrow and long environments such as corridors (for example, red, orange, blue or brightly colored as yellow as black) it is advisable to use hot or dark colors in the background wall to 'approach it;' cold and light colors (gray, white, soft pastel shades) in the side walls to obtain the visual effect of more space.
The second factor to keep in mind is that when we step across the threshold of a salon, flooring is the first surface we look at. A dark floor will exalt the walls, so it's good to choose contrasting, lighter shades on the walls to brighter them unless you want to create some continuity in the environment and uniform it. Although a light floor provides a comfortable environment, the advice, in this case, is to make the walls darker and more vibrant.
2. Go Green
By adding plants, breathe life into your garden. They not only clean the air and deliver oxygen but also give a color pop to any area without being overwhelming. Bringing plants inside will also give a natural, soothing feel to your living room.
3. Pop of Pink in spa pedicure chairs
Pastel, Millennial pink is currently a hugely popular trend in lounge decor. Such girly tones are trendy with super-soft and feminine colors that are immediately identifiable in the salon's interior. Try to put your spin on this design idea, so you don't mix in with the crowd. Having pink-colored pedicure spa chairs looks nostalgic.
4. Framed mirrors or Nacked Mirrors
Mirrors at a hair salon carry great importance. Their main function, of course, is to mirror the images of customers back as before and after for the salon service. Nevertheless, the salons should also be stylish environments and must fit in with that style as an important element as mirrors.
You want clients to get an impression of your business when they walk into your salon. At the very least, they can see as many mirrors as hairstylists do. So, you have to choose mirrors that give a good impression. The basis of the mirror is, of course, only glass with a reflective coating. Although a plain rectangle can function in a super-minimalistic environment, with a frame or specialized edging, you are more likely to get an attractive effect. Think of the atmosphere you wish to convey. If it's new, consider plain geometrical mirror sets. If you want a glamorous look, go ornamented. If you opt for a simpler mirror, consider including your logo in the design. You still want to promote your business or brand through the mirror, for a homier aesthetic, go for mirrored mirrors or naked mirrors for a sleeker feel.
5. Lighting
Light is one of the most significant features in your living room. Natural light is always preferred, but the big windows do not bless every building. If you've got windows, then great! Use these. Set up space so every station can take advantage of the sunlight. But there are other ways to light up your space if you don't have big windows.
When choosing the light for your salon, bear in mind that your client's main goal is to look good. If they look in a mirror and don't like what they see, they won't be happy with your service. Choose warm bulbs for a more flattering light, instead of cool ones. Make sure the shadows don't impact where your customer will be seated when you put your lamps. Also, consider whether you want lights behind the mirror, or just want overhead lights, or standing lights.
6. Color Contrast in Salon Furniture
Another important thing to remember when selecting colors for the beauty salons is matching color furniture. If the style is modern and trendy, all colors are approved, but it is better to choose non-ringing colors such as the selection of white, earthy browns, blues, and multiple shades of purple).
For classic style, it would be best to use shades like dark reds, greens, sugar cane, and ochre yellows, which give prestige and importance.
If the style is rustic, the warm shades are best opted for. That is orange, red, yellow range derivatives, brick colors. Even shades of blue sometimes tend to heat up, but mostly cold. So better choose pastel shades like light blue and baby pink.
If the style is "nordic" (hence steel furniture and minimal shapes), it is advisable to use mainly shaded colors such as greys, olive greens, and maybe introduce orange or even black or violet elements, details, or colored portions of the walls.
7. Stained Glass Windows
In the 17th century, the use of stained glass dated backward. The salon will be given a retro look using Stained Glass windows. You can have an interior lounge with a dark marbled tiled floor that features rich wooden cabinets and tables. The stained glass froze white, yellow, and teal diamond design provides a bold statement piece and a good complement to the wood. Another famous place in the foyer for stained glass windows is. Sometimes you see stained glass windows flanking the entrance, which may have a stained glass panel as well. Another area to add stained glass transom lights is a window wall.
8. Retro Style
Inspired by gold and gray wallpaper coupled with simple mirrors, and an analog wall clock reflects the natural light, adding a retro look to the mix. A warm and inviting environment creates warm brick walls and oak ceilings and a hint of gloss floors. The famous barber pattern frames the big window, and the dark brown buttery leather chairs complement the retro look of the hanging metal pendant lights with some retro hairstyle frames and makeup models.
Conclusion
There are lots of ideas for salon decoration while on a budget. Designing your salon's interior is necessary, but a pleasant and gratifying one. Just remember to keep the layout clear, the energy flow, and remember the details — they're making all the difference. Line up your space decoration and creation to the way you want the salon to work. Salon interiors can be greatly combined with colors, lightings, mirrors, salon furniture, and many more materials.