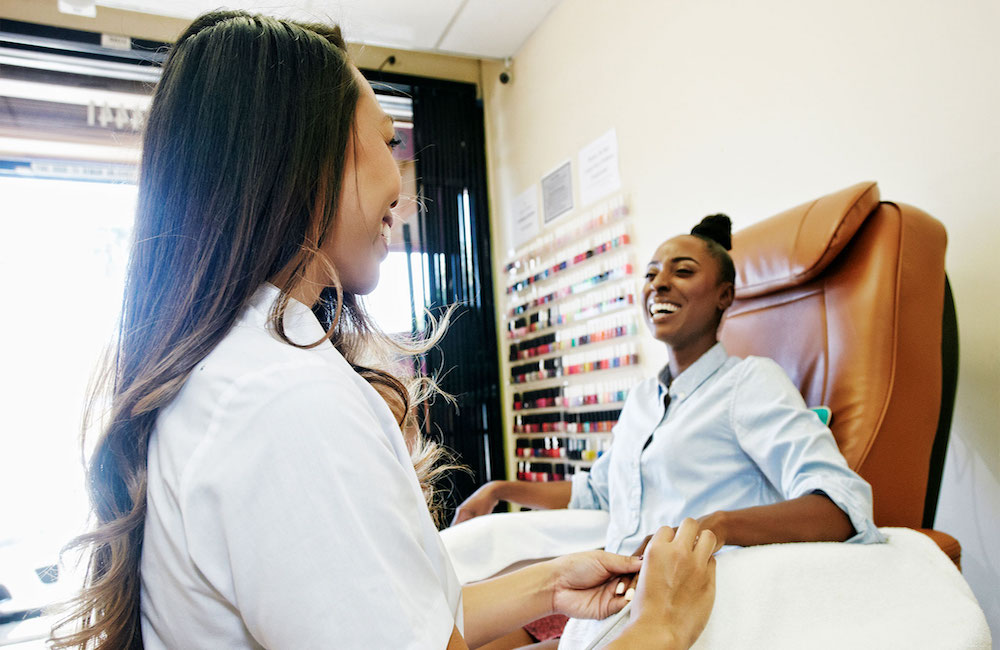 To run a successful nail salon, would-be salon owners need to know how to open a nail salon and establish the right nail salon prices. Fortunately, the business model for salons is fairly straightforward.
Like any retail business, you'll need to start with basic legwork like acquiring a business license and insurance. From there, you'll need to find the right equipment and supplies unique to operating a nail salon. Knowing what all this will cost can help you set the best nail salon prices to remain profitable.
Finding the Right Equipment
If you want to know how to open a nail salon, you'll need to outfit your salon with the right equipment. Costs will vary, but a typical outlay can run between $75 and $125 per square foot. This means a retail site of 1,000 square feet (a typical size for a smaller nail salon) will cost roughly $75,000 to $125,000 to build out before you can open your doors to customers.
You can try to minimize your startup costs by purchasing used equipment from other salon owners, or even taking on a lease where a nail salon was previously located. Sometimes property owners will agree to build a space to suit your specific business needs if you agree to a lease.
Manicure Stations
When considering how to open a nail salon and the equipment you'll need, outfitting your salon with manicure stations is top of the list. This is where the core of your salon service takes place. Providing a comfortable station for both you and your customers while delivering the best and most efficient service is vital to your success.
A station will include a manicure table that holds all the nail polish, brushes and tools you'll need, and it may come with lighting and motorized vents to pull away fumes. You'll also need comfortable chairs for both the customer and nail polisher. Table prices can start at around $100 and run upwards of $750, though many standard models typically cost between $200 and $300. Stools can run between $100 and $200.
Where to start? Online supplier RonSalon Furniture Warehouse has a wide selection of manicure tables and stools from Deco Salon Furniture.
Pedicure Chairs
The type of pedicure chair your salon offers can help entice customers and keep them coming back, which makes it one area where you may not want to skimp when looking at how to open a nail salon. Opt for comfortable padded recliners. A built-in foot bath will add a professional touch and provide another service option (foot massages) to your menu of offerings. These can also be one of your pricier purchases, costing from $1,000 for lower end models to as much as $10,000 for luxury chairs.
Where to start? Try retailers such as Rongfu Salon & Spa Equipment, which offers a variety of chair options at a range of prices.
Nail Polish Displays
Though not essential, an attractive nail polish rack can help market and lure new customers into your salon. It can also help customers choose the colors they want by giving them an easy view of all available colors and their gradients. Nail polish racks are typically wall-mounted or rotating floor displays and cost anywhere from $50 to $1,000, depending on size and quality.
Where to start? Elegant Nail & Beauty Supply has a number of nail polish racks to choose from to please most budgets.
Drying Lamps
When looking at how to open a nail salon, the right equipment is essential, and that includes drying lamps. It's important to properly dry clients' nails after polishing to prevent smudging, and the best way to achieve this is with drying lamps. Creating a comfortable and relaxing environment for customers while their nails dry also helps elevate the overall experience in your salon. Drying lamps and stations can cost between $50 and $500.
Where to start? For more economical drying lamps, we offer a number of options.
Equipment Sanitizers
It's important to keep your equipment clean and sanitized for the safety and peace of mind of your customers. In addition to scrubbing foot basins after each customer, you also need to wash and dry reusable metal instruments, then place them in a sanitizer that uses UV rays or heat to sterilize the equipment. Sanitizers can range from $50 to $150.
Where to start? we have several equipment sanitizers to choose from.
Establishing Nail Salon Prices
Setting nail salon prices depends a lot on your location. It can also depend on your clients and the number of competing salons in your immediate vicinity. Luxury spa-like salons with premium services will typically charge more than basic strip mall outlets.
Check to see what competitors in your area charge, especially those with a similar setup to your salon. As a general idea, manicures can typically run anywhere from $15 to $50, while pedicures can cost between $15 and $75. More specific treatments come with additional costs. Acrylic full sets can be $30 to $100, and gel nails $45 to $75. Furthermore, if you decide to sell products, whether nail polish, lotions or filing kits, the typical markup is around 50 percent or more. Whatever you decide, research will help you set your optimal nail salon prices.
Do you have recommendations for how to open a nail salon? How do you determine your nail salon prices? Let us know in the comments!