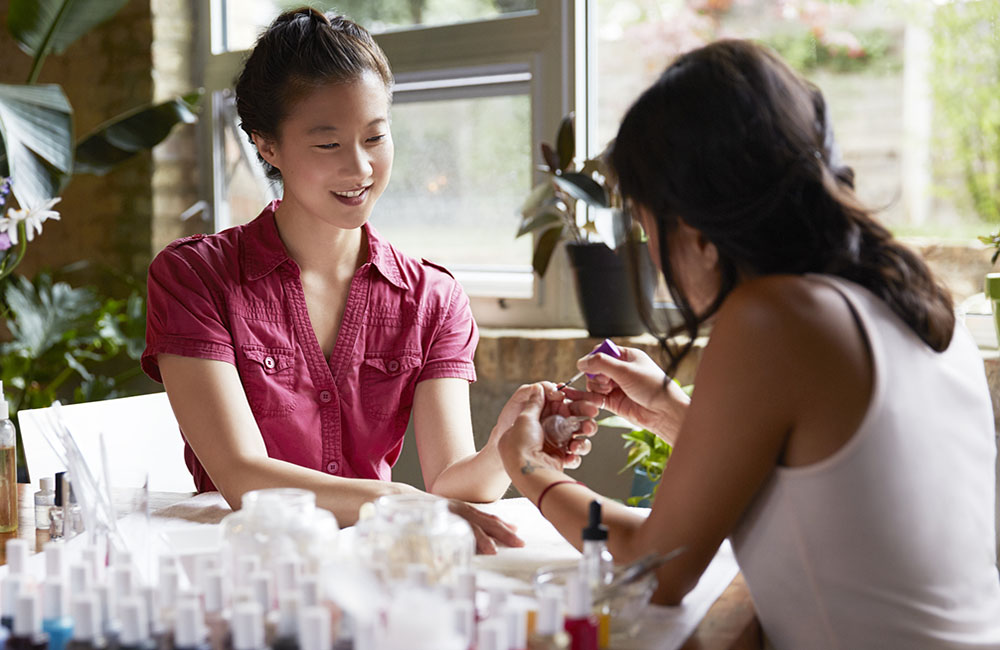 When salons want to drive more foot traffic and increase their customer bases, serving up wine along with manicures, pedicures, and blowouts is one way to revamp a nail salon marketing strategy. In 2016, approximately 21,000 salons closed their doors, according to Salon Today. To combat problems like increasing overhead expenses, taxes, insurance, and salon walkouts, salons need to increase the number of visits their customers make to the location. Salons with wine are one way to create a unique experience for clients who are looking for exceptional service. But before you start pouring, it helps to weigh a few important pros and cons of serving alcohol in your salon.
Pro: Salons with Wine May Have More Customers
Potential and established customers love getting extra perks. Offering a glass of wine with their mani or some champagne while they get a blowout is one way to set your salon apart from your competitors, notes ProSolutions Software. Not sure it'll work for you? Consider this: some salons have seen an increase in customer traffic of 30 to 40 percent since they began offering free drinks on certain days, according to The New York Times.
Con: Wine Itself Won't Necessarily Boost Profits
Getting more customers in the door can give your bottom line a lift. But, as Eater points out, salons can't charge extra for that glass of wine, beer or champagne. Plus, customers — particularly repeat customers — typically make their appointments based on their need to get their nails done or toes painted, not just because they can get a free glass of something to sip on. It's essential to make sure that the service is exceptional to keep your clients returning for the refreshments and your expertise.
Pro: Relaxed Clients May Spend More
In addition to creating an inviting atmosphere that's perfect for unwinding, serving alcohol in your salon may give you an uptick in sales. ProSolutions Software points out that clients who indulge in a drink often spend more money at an appointment.
Con: Alcohol and Wellness Don't Always Mix
If your salon or spa focuses on wellness or caters to a clientele that wants wellness-based products and services, serving a glass of wine could put your reputation into question. It could also drive away some of your customers. Additionally, if you have a child-friendly policy, you might want to rethink joining the ranks of salons with wine or other libations.
Pro: New Laws Make It Legal in Some States
In 2016, California began allowing spas and salons to serve complimentary wine and beer to customers who are 21 years old or older, according to ABC30. The legality differs from state to state, so make sure you check with your local authorities before serving up beer, wine, or bubbly to your clients.
Con: Serving Alcohol Creates Potential Liability Issues
Before you become a nail salon with wine, check with your insurance company to get the lowdown on potential liabilities. While having a glass of wine with a pedicure is lovely for your clients, it can put your business at an increased risk of liability for accidents like slips, falls, or even drunk driving. If you choose to serve your clients alcohol, make sure you have a formal system to keep track of your inventory. Establish a strict policy about serving customers so you, your technicians, and your other staff members are on the same page.
Whether you decide to become a nail salon with wine service or not, working on your marketing strategies is the key to giving your business a boost.