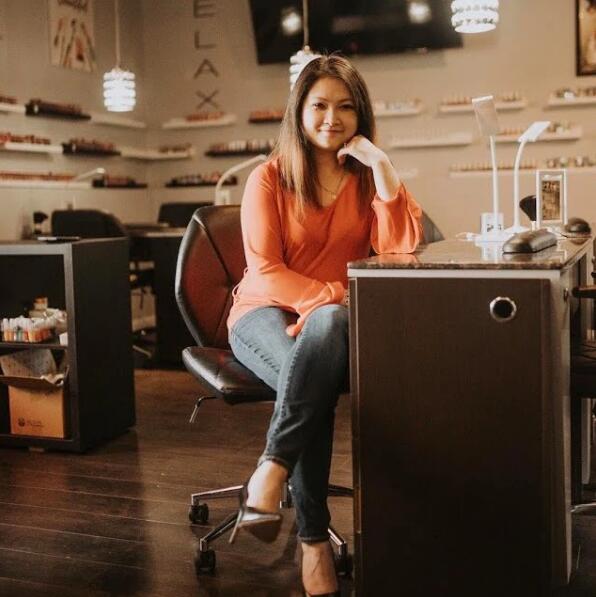 Tracy Nguyen was recently awarded the title of Community Caregiver in DaySmart's 2021 Small Business Brilliance Awards. This recognition honors customers who have committed themselves to giving back to their communities through donating their time and resources to those in need.
After working for seven years in quality assurance labs for manufacturing companies, Tracy Nguyen opened Salon R5 Ltd. Co. in Davenport, Iowa, in 2019 to achieve greater financial freedom in her career and gain the flexibility to spend more time with her family. Her salon quickly became a hub for her surrounding community, especially during the pandemic when she embarked upon sewing over 500 masks for local healthcare workers.
Q: To start, we'd love to learn a little more about your business.
A: We're a family-owned and operated nail salon and spa. My parents, who are the salon's nail technicians, previously owned a mom-and-pop nail salon for nearly 20 years. When you open your own business, it's smarter to go with what you know, so I teamed up with my parents because the salon setting is where I grew up. I run the business side of Salon R5 and they focus on doing nails—though I did get my esthetics license during the pandemic so that I can do more of the hands-on work and add more services to our menu for our clients to enjoy.
One thing I'd like customers to know about us is that we're a business with integrity. Our goal is to provide clients with a good experience and to be a place where they can come to feel supported and connected.
Q: What inspired you to adopt Salon Iris?
A: When I opened my business, I knew I wanted to incorporate more of the salon technology that's available today, like scheduling software. I tried out a few other platforms on a trial basis but ultimately liked Salon Iris best, so that's what I've used since opening.
It's been great so far. I'm able to add my own touches to the online booking platform, and all my clients love it. I use the software to send out text and email appointment reminders and recently added on the reputation management feature to automatically text clients after their visit to leave a review. The two-way texting is also helpful; I really like that DaySmart is adding features that streamline the customer's experience as well.
Q: How has the pandemic impacted your business?
A: We were closed for eight weeks at the start. Having been only a year old at that point, we were just gaining momentum, so it does feel like we're starting over.
Sanitation has always been a top priority at Salon R5, but we've since added plexiglass between employees and customers and seat everyone on every other chair, wiping everything down between appointments. All employees wear masks and shields to work and clients are required to wear masks inside. We're definitely considering keeping the plexiglass and increased cleanings once COVID passes because they've helped us create a sort of safe haven in the salon. We've also added a health questionnaire to clients' automatic appointment reminders to make sure they're healthy enough to come in.
Q: When the pandemic hit, you started making masks to donate. Please tell us a bit more about that.
A: Owning a local business, my mission is to turn the salon into a platform for giving back to the community. As soon as my family and I learned about the shutdown and the mask shortages for healthcare workers, the idea to sew our own grew from there. The first few weeks, we were making the masks out of pocket, but eventually, we reached a point where we needed assistance. I realized that there had to be others in the community who wanted to help, so I started selling the masks. For every mask purchased, half of the cost went back into materials for donated masks.
I used Salon Iris' email marketing to share the landing page to where people could purchase the masks on our website and learn more about what we were doing, then used the booking platform to set up pickup times.