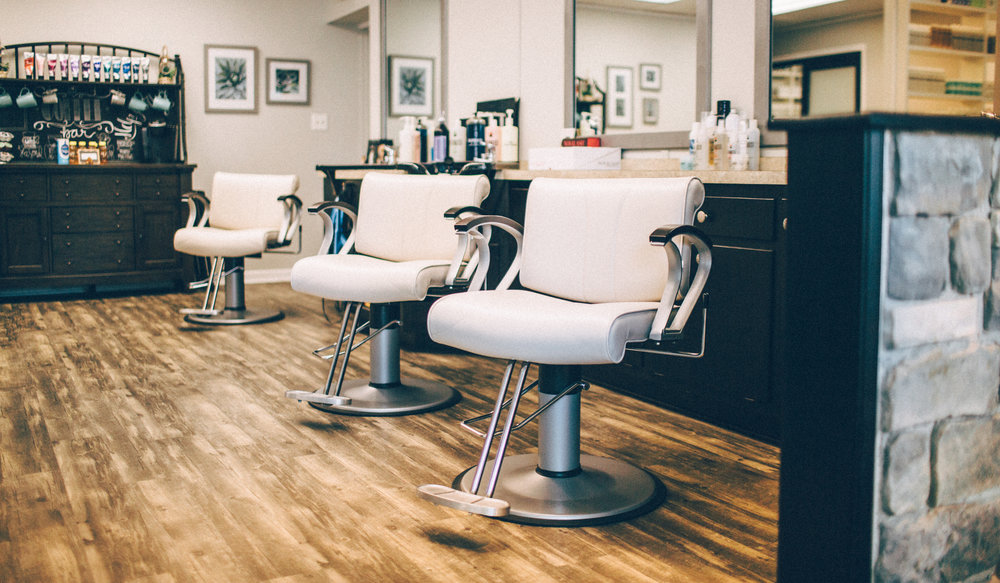 With so many options and price points on the market, finding and investing in the best salon chairs for your salon can be intimidating – but it doesn't have to be! Follow these 8 tips and find your dream salon styling chairs!
1. Client Comfort
Providing a comfortable, satisfactory experience for your clients is undeniably one of the most important factors to consider when finding the best and most comfortable salon chairs for your salon. Clients may be sitting for hours depending on the service, and the key to a comfortable salon chair is full lumbar support, high-density foam cushions, and a width that can be comfortable for all sizes of clientele. Creating a comfortable experience for your clients makes them feel appreciated and increases the probability of them becoming a returning client!
2. Stylist Comfort
The day-to-day work of a stylist is physically demanding, and it is extremely important to consider the long-term comfort of your stylists. First, make sure to purchase a chair with a hydraulic base that adjusts in accordance with your stylist's height. Aside from it being a hydraulic chair, it is important to make sure your potential salon chairs are lockable at the preferred height, and that they provide maximum mobility. When searching for the best and most comfortable all-purpose chairs, make sure to consider a reclining salon chair in order to give your stylists the greatest ability to be in control of their craft.
3. Quality
Construction is key when searching for your perfect salon chairs. Depending on your budget, there is a wide range of high-quality styling chairs from which to choose. It can be helpful to purchase from recognized, quality brands, such as Pibbs, Belvedere, Collins, and Takara Belmont. Quality salon styling chairs come at an increased cost, but are a solid, long-term investment for you and your salon, and will save you money in the future.
4. Budget
The cost of hair salon chairs ranges from high to low, so it is important to have a realistic budget and stick to it. When working with a smaller budget, investing a little extra into your styling chairs will pay off, as they are some of your most used equipment, and a strong representative of the quality of your salon to your clientele. Ideally, we could all afford the highest-quality salon styling chairs, but there are plenty of mid-priced, high-quality options available that check off your boxes for fashion and function.
5. Material
Often overlooked in the purchasing process, it is extremely important to know the materials of your potential salon styling chairs. Steer clear of fabrics and opt for high-quality vinyl for easy maintenance and long-lasting results. For the metal portions of your hair styling chairs, chrome is a durable material and provides a chic look, while its powder coating hides scratches and general wear and tear. Additionally, be conscious of your base options, and which base is best for your salon chairs. Standard round, flat round, flat square, star, and Italian bases each have pros and cons, so consider stability, weight distribution, upkeep, and maintenance.
6. Easy to Clean
To keep your hair salon's chairs looking brand new, it is important to consider material and color, how products, hair color, and bleach will affect your chair's look, and the design of the chair. Fabrics and leather wear quickly and are challenging to clean and keep up with, while you can easily clean high-quality vinyl. Although the chair may be your main focus, don't forget about cleaning your chrome base to keep your station looking clean and sleek. Additionally, a salon chair designed with an open back or sides creates the ability to easily remove hair from the salon chair, and in turn, allows you to have a more sanitary salon.
7. Aesthetic
As you will see in your search for the best styling chairs for you, there are many high-quality products to choose from. An easy way to sift through the endless number of products is finding a styling chair that matches your salon's personality – is it classic, modern, retro, or contemporary? Looking at style and your color palette is key in this step of your process. Each major industry vender offers different unique styles, with several options of custom colors and piping. Take the time to consider your salon design to create a one-of-a-kind, custom styling chair unique to your salon!
8. Warranty
Looking at a company's warranty can show a lot about the quality and durability of your salon's potential styling chairs. Beware if there is no warranty – this could be a sign of low-quality materials with a short lifespan. The best salon chairs will be backed by at least a one-year warranty. Along with a warranty, check to make sure that they have a dedicated customer service team ready to assist you.